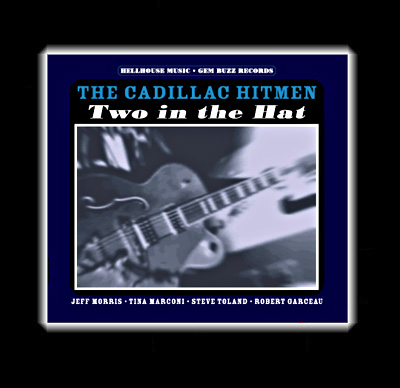 With the Cadillac Hitmen's third release, Two in the Hat, Desert Surf Dragstrip Rock'n'Roll will now become a synonym for American roots music in Europe, too. The CD combines new songs, recorded in the studio, with live versions of older songs, recorded in November 2003.
For the first time the Cadillac Hitmen cross the borders of the classic four-piece by broadening their musical horizons through a Tex-Mex trumpet in the title song, added by Chris Elliot. All songs have been written by the band, except for the hidden track Black Sabbath, which is a cover version of the song by the band of the same name.

Cadillac Hitmen's Two in the hat, that's the perfect blend of concise melodies with reverb-inferno.

Sound samples are available on the label's website.


The special download edition delivers
all the tracks of the CD in lossless FLAC and, additionally, MP3 format

two additional tracks not available on the CD (FLAC + MP3)


digital artwork in highres quality (300 dpi) derived directly from EPS files used for printing the digipak
Size of fileset: ~700 MB


Cadillac Hitmen: Two in the Hat (Special DL Edition)
Product Code: GEM-CD-001-DL
Availability: 10000
Tags: Cadillac Hitmen, Gem Buzz Records, Download, FLAC, MP3